Browse:
Home
/
中国 (China)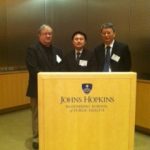 By ELF Talk October 25, 2014
Dr. Layton was invited to present at the Autism Speaks international workshop on his, Dr. Hao, and Dr. Zou's Chinese autism diagnostic test: Clinical Autism Diagnostic Scale. There were more than 50 international professionals invited to the workshop to address the challenges and opportunities to enhance autism research and services worldwide, particularly in low- and middle-income […]
Posted in Autism, In the News, Presentation, 中国 (China) | Leave a response
By ELF Talk August 10, 2014
We are proud to announce one of Talk and Total's own staff members, Dr. Grace Hao, has assisted in establishing a Memorandum of Understanding (MOU) between North Carolina Central University and China's Beijing Language and Culture University. The MOU builds a partnership between the two universities, with the purpose of creating a Bilingual Speech–Language Pathologist training […]
Posted in In the News, 中国 (China) | Leave a response
By ELF Talk March 16, 2012
Dr. Layton recently spoke at the Garner Civitan Club, regarding the special-education needs of children in China. The Garner Civitan Club holds an annual dinner honoring the special-education teachers of the Garner, NC area schools. This year's event featured not only Dr. Layton's talk, but also a talk given by Talk and Total parent, Jane […]
Posted in Down Syndrome, Gatherings, In the News, 中国 (China) | Leave a response
By Dr. Thomas L. Layton March 15, 2012
The YangAi Parent Club Guangzhou, China, invited a family with a Down syndrome child to visit and meet with families and professionals at their center. The YangAi Parent Club is attempting to connect families to families. Therefore, they invited the Ball family: Douglas, Jane and daughter, Caroline, to visit their center. Plans are underway to […]
Posted in Child Development, Down Syndrome, In the News, 中国 (China) | Leave a response
By ELF Talk September 7, 2010
Dr. Layton traveled to Guangzhou People's Republic of China in August to train parents and professionals on "Communication Among Children with Down Syndrome." The training lasted three days including Dr. Layton evaluating several young Chinese children with Down syndrome.
Posted in Down Syndrome, In the News, Photos, Workshop, 中国 (China) | 1 Response